Some de­tails about how this web­site works and credits for all those people whose in­nov­ative, in­ter­esting, com­plic­ated or simple odds and ends helped me put it together.
Content Management
Site Engine
Most of this web­site is powered by a WordPress in­stall run­ning a custom theme built from the ground up where the ground was Andy Skelton & Scott Allan Wallick's glor­i­ously un­adorned Sandbox. Bandcamp looks after some re­cord­ings of my music.
Plugins & Widgets
The events in the Diary and listed in the sidebar on some pages are powered by Arnan de Gans's Events plugin. You can get in touch with me thanks to Takayuki Miyoshi's Contact Form 7.
This art­icle by Adam Polselli helped me build the footer widget which grabs my re­cent reading from Readernaut [Update, 10/2012: there's a new Readernaut API, so see here for my up­dated solu­tion] and Jeroen Smeets's plugin does some­thing sim­ilar for Last.fm.
Typography
Typefaces
If your browser is com­pat­ible with CSS3 @font-face em­bed­ding, you will see top-level head­ings set in a di­gital re­pro­duc­tion by Igino Marini of a Double Pica typeface cut by Peter de Walpergen and ac­quired in 1684 by the Dean of Christ Church College Oxford, John Fell, in his role as cur­ator of Oxford University Press. You can read a short his­tory of the Fell Types on Marini's web­site. All other text is set in a serif font stack that in­cludes Baskerville, Palatino and Times New Roman.
Typesetting
Body copy is kept in shape by Jeffrey D. King's wp-Typography WordPress plugin, which does its ut­most to hy­phenate, re-align, tame and make beau­tiful the tem­pera­mental and con­trary thing that is text on the web.
All text, big or small, strives to sit on a 22-pixel baseline grid. Andrée Hanson's 960 Gridder helped in trying to make that happen.
Inspiration
Much of the im­petus for this site's re­design is thanks to the thriving web design com­munity and its rig­orous in­terest in making the in­ternet nice to look at, but also ac­cess­ible with clean code and sup­port for web stand­ards. Of the many things worth reading on­line don't miss A List Apart, a fort­nightly magazine of the latest and greatest ideas in web design, and 24 ways, which pro­duces the web-designer's ul­ti­mate on­line ad­vent cal­ender. If you like looking at (and dis­secting) good design you'd be worse off than to glance at the web­sites of de­signers like Jason Santa Maria, Elliot Jay Stocks, Simon Collison or Inayaili de León, design studio SimpleBits, or just about any­thing in Happy Cog's port­folio.
History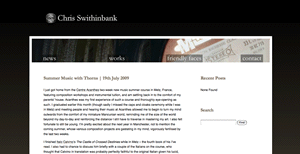 For anyone in­ter­ested in the past, the old site design and con­tent is archived for pos­terity at http://v1.chrisswithinbank.net. Obviously this is no longer being up­dated and most of the ma­terial has been ported over to the new design, but it's there nevertheless.