The bi­an­nual MANTIS Festival at the University of Manchester presents fixed media works and works with live elec­tronics, per­forming these over a large sound dif­fu­sion system that com­prises around 40 loud­speakers. The con­certs over the Halloween weekend show­cased the work of stu­dents at the uni­ver­sity, that of in­vited guest com­posers and in­cluded the first col­lab­or­a­tion between MANTIS and the university's newly ap­pointed Contemporary Ensemble in Residence Psappha.

As often at these fest­ivals, it was stu­dent works that stood out. The droning, care­lessly as­sembled am­bi­ence of Dominique Bassal's festival-opening por­trait con­cert on Friday night was quickly over­shad­owed by the work of stu­dents at the NOVARS Research Centre that dis­played varied but con­sist­ently crafted ap­proaches. It is not often that people laugh at the wit of elec­troacoustic music, but Donal Sarsfield's Of Noise Alone achieves this with a little gentle sub­ver­sion. The work takes the sound of ap­plause and clap­ping as its source ma­terial and, as the audi­ence put their hands to­gether, the piece seemed to re­ignite acous­tic­ally, briefly il­lu­min­ating some­thing faintly ri­dicu­lous about the ritual of per­form­ance and applause.
Irma Catalina Álvarez's Windslley Street achieves a re­mark­able stead­i­ness and long-breathed form as nu­merous, seem­ingly autonomous little mech­an­isms each follow their own gradual de­vel­op­ment. In stark con­trast to the tend­ency for a 'whizz bang', causal lan­guage, this work's quietude and re­pe­ti­tion man­ages to never seem re­pe­ti­tious while never breaking from a sense of steady progression.
The latest and longest work by Sam Salem, Dead Poets, fur­ther ex­plores his in­terest in using a spe­cific city or place as the acoustic 'sub­ject' of a work with a 20-minute, 4-part re­flec­tion on New York. Perhaps Morton Feldman's title 'The viola in my life' — much loved by Helmut Lachenmann — should be ad­apted to this kind of work. Far from being a por­trait or doc­u­mentary of New York this work is per­haps 'New York in my life'. Again wit was in evid­ence as the story of a tramp un­folds to end with his sorry prot­ag­onist being told to 'Go fuck your­self'. Some re­mark­able, ominous sounds taken of the wind howling through the shuttered and derelict fair­ground rides of Coney Island com­ple­mented more fa­miliar sounds like subway trains in what seemed an al­to­gether darker work than its ex­cel­lent pre­de­cessor Public Bodies.
As well as other stu­dent works by Oliver Carman, Mark Pilkington, Josh Kopeček and Richard Scott, we were given the chance to hear El Espejo de Alicia by 47-year-old Chilean com­poser Federico Schumacher. Subject of a — by all ac­counts ex­cel­lent — por­trait con­cert at this year's Festival Acousmatique International in Brussels, Schumacher is not someone I had come across be­fore, but this work was crisp, del­icate and tender, ex­hib­iting both the tech­nical pre­ci­sion we've come to ex­pect of this music and — more un­usu­ally — an ear for af­fecting and mu­sical ideas. A lot of his music, in­cluding El Espejo de Alicia, is avail­able for free as mp3s here. I'd re­com­mend a listen.
Live Wires: Psappha & MadLab

The Sunday gave us a chance to hear MANTIS's large rig of loud­speakers pitted against the live in­stru­ments of Psappha's Tim Williams and Richard Casey in three works for per­cus­sion and piano with elec­tronics. Manuella Blackburn's Cajon and Joao Pedro Oliveira's Maelstrom are both ac­com­plished works — the former for the eponymous cajon and the latter for cim­balom — but they were hugely (and per­haps un­sur­pris­ingly) over­shad­owed by Stockhausen's Kontakte. I heard Kontakte per­formed by Nicolas Hodges and Colin Currie at the Proms in 2008 and found my­self rather ir­rit­ated by it — un­like my re­ac­tion to Gruppen, which was ex­hil­ar­ating — but on Sunday the work's in­cred­ible, in­ef­fable logic and scope really drove home how short-sighted or simplistic much music for in­stru­ments and elec­tronics is. There is at no point a straight­for­ward concept of in­ter­ac­tion to grasp hold of. Rather, the three parts — piano, per­cus­sion and elec­tronics — are al­lowed to circle each other, finding points of con­tact and drifting apart in a shower of sounds. This is no sound­world piece, it em­braces count­less sounds — with the pi­anist equipped with a per­cus­sion set-up al­most as large as that of the per­cus­sionist — and all the sounds co­exist un­segreg­ated. It is hard to spe­cify how this work holds to­gether. There is some­thing still very con­tem­porary about the con­struc­tion of meta-instruments out of col­lec­tions of per­cus­sion so that a single ges­ture can begin on a guero and end in wind chimes, giving those sounds an or­ganic, phys­ical logic that somehow trans­mits to the acoustic. Casey and Williams's per­form­ance was grip­ping to the last and it was ex­citing to hear so clearly how im­portant this music is.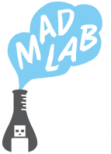 Sunday evening brought the usual re­laxed fi­nale to the fest­ival, this time re­lo­cated from Nexus Art Café to Manchester Digital Laboratory (MadLab). After a series of fixed media and au­di­ovisual works, we moved onto live per­form­ances with the circuit-bending of Rodrigo Constanzo and Mauricio Pauly, fol­lowed by the synth and video ef­forts of Mark Pilkington and Thomas Bjelkeborn. Reflecting MadLab's remit of pro­moting com­munity dis­cus­sion and sharing tech­nical ex­pertise, the evening ended with a pre­view screening of a rough cut of Ricardo Climent's doc­u­mentary film VIP Lounges Are For ALL about S.LOW Projekt, which he ran in Berlin this summer and I wrote about here. A sim­ul­tan­eously hu­morous and ser­ious look at the paradox of working in both aca­demic 'centres of ex­cel­lence' and 'low' arenas in Berlin's can-do arts scene, the film poses ques­tions about the quality of art­work and what con­sti­tutes value as well as giving an in­sight as to how this some­what ad hoc, im­pro­vised fest­ival that in­volved around 40 dif­ferent artists ran. Here's an ex­cerpt to finish off with: