Last year for International Women's Day, I took a look at the or­ches­tras of Manchester and how women were rep­res­ented in their activ­ities. Since then I have moved to Paris and seeing as I am studying at IRCAM, it seemed apt to in­vest­igate how well fe­male com­posers are rep­res­ented at this in­sti­tu­tion. Initially, my curi­osity was sparked by a par­tic­ular dec­or­ative fea­ture in the stair­case of IRCAM's main building: the walls are hung with shadowy por­traits of com­posers who have worked here in one ca­pa­city or an­other. I counted the por­traits; there are forty run­ning all the way up four flights of stairs, but save for the pho­to­graphs of Florence Baschet, Kaija Saariaho and Cecile Le Prado, they are all of men.
With that rather un­scientific measure in mind, let's look at the course on which I'm studying at the mo­ment. This year's class con­tains 6 women and 9 men, which while not per­fectly equal ranks as quite bal­anced con­sid­ering I have pre­vi­ously been on courses where fe­male par­ti­cip­a­tion was less than 10%. There is an on­line archive of the com­posers who have studied on Cursus 1 since 2004, so I put to­gether this table to see how the demo­graphics de­velop over time: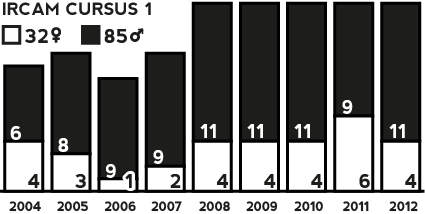 Over nine years, the mean fe­male par­ti­cip­a­tion is 27%, once drop­ping as low as 10% (in 2006/07) and only twice hit­ting its peak of 40%.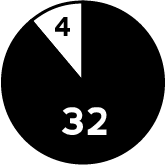 As a way of seeing how this is re­flected in IRCAM's public-facing pro­gram­ming, I counted up the com­posers being per­formed in IRCAM's 2011/12 Paris season (without counting the Cursus 1 con­certs at the end of this month). This pro­gram­ming is highly varied and in­cludes young com­posers in­volved with Cursus 2 or the Tremplin pro­ject with Ensemble in­ter­con­tem­po­rain, as well as per­form­ances by various in­vited groups and com­posers in res­id­ence. Of 36 com­posers per­formed, 4 were women — 11%.
There are deep-rooted and com­plex reasons be­hind these dis­ap­pointing fig­ures, and I don't wish to pin the blame solely on IRCAM for the im­bal­ances — the ap­parent fil­tering out of women cer­tainly be­gins much earlier in their ca­reer paths — but I do think it is im­portant to raise aware­ness of these is­sues. The con­tinued cel­eb­ra­tion of any cul­tural role — such as that of the com­poser, but an even more ex­treme case is that of the or­ches­tral con­ductor — which ap­pears to be sys­tem­ic­ally male-dominated is in need of scru­tiny. I would be very in­ter­ested to hear thoughts on how best these in­equal­ities might be ad­ressed or why the num­bers look like they do.
In the mean­time, International Women's Day is about cel­eb­rating women's achieve­ments, so get listening to some of my tal­ented col­leagues Tatiana Catanzaro, Elvira Garifzyanova, Heera Kim, Diana Soh, Lisa Streich and Ying Wang, or if you have Spotify, plug your­self into Tim Rutherford-Johnson's IWD-themed playlist.
Update, 10/03: Two people have sug­gested that per­haps fe­male rep­res­ent­a­tion on Cursus 1 might cor­relate with the pres­ence of women on the juries that  se­lect stu­dents. This seemed slightly du­bious to me, but the archives also list jury mem­bers, so I was able to do some fur­ther ana­lysis (PDF, 76kb). It shows no clear re­la­tion­ship between the two, but it does allow us to note that over the last nine years just 11% of the Cursus 1 jury mem­bers have been female.